Scaling New Heights: SST Honored May 17 Typical Demonstration Case by Posts & Telecom Newspaper Again
Posts & Telecom Newspaper in China has recently announced the selection results of the May 17 Typical Demonstration Case. The selection is designed to present innovative achievements with industrial influence, with a view to recommending the most valuable products and solutions of the year. Shanghai Symphony Telecommunications Co., Ltd. (SST) is pleased to be honored the May 17 Typical Demonstration Case by the Posts & Telecom Newspaper, for its cutting-edge products and technologies, and its spirit of innovation in consistent pursuit of product quality for two decades. This is the second time that SST has made the list following the award last year.
Organized by the Posts & Telecom Newspaper, the May 17 Typical Demonstration Case selection covers three innovation fields – technology, application and industry. The selection panel consists of experts from the Ministry of Industry and Information Technology (MIIT) and the top four operators in China, as well as senior editors and journalists of the Posts & Telecom Newspaper. As an authoritative media agency in China's communications industry directly under MIIT, the newspaper has been keeping abreast of industry developments. With focus on new-generation information and communications technology represented by 5G, big data, and AI, it keeps exploring ongoing hot spots and development directions of the ICT industry, which has attracted extensive attention and engagement by industry players both upstream and downstream. In response to such ambition, SST joined in the selection with its one-stop super solutions and professional consulting services, and finally stood out from many competitors and was awarded the Innovative Enterprise in the Communications Industry of 2021. This year, a total of 17 companies have won the Typical Demonstration Case award. The strict selection and evaluation criteria, and the short winner list make the honor more precious.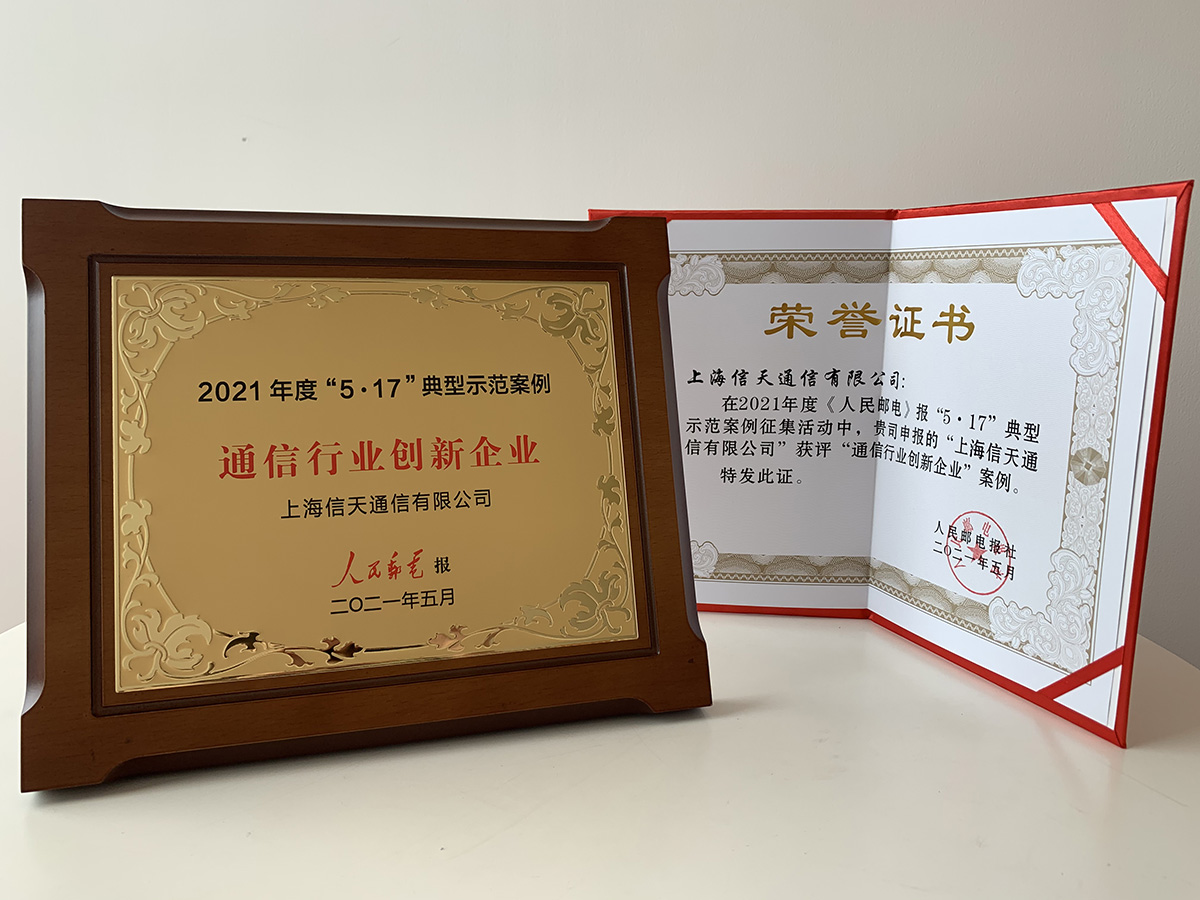 SST is a Sino-foreign joint venture for value-added telecom services in China, co-invested by the China Telecom Corporation Limited, AT&T Corporation of the United States, and Shanghai Information Investment Inc. (SII) of the Shanghai Municipal government. SST's strongest competitiveness lies in its capacity to explore customer needs, and combine sophisticated technology and professional services to contribute to customers' long-term development. We use popular technologies such as SD-WAN, cloud connect, and hybrid cloud to assist customers with transformation and upgrading, so that they can embrace better business growth and development in the long run. Our efforts and performance have also been acknowledged by many customers.
Innovation has emerged as a crucial topic in the new round of revolution in the communications sector. It is the companies tackling challenges on the front line of technological innovation that are pushing the communication industry forward; it is them that are developing innovative products day and night; and it is also them that are advancing with the times and injecting new forces into the industry. While propelling the industry, they help consolidate the foundation of technological innovation in the communications field, and enhance China's image as a country strong in independent innovation. As new technologies such as 5G, big data, AI, cloud computing, blockchain, and industrial Internet welcome better integration and innovation, a smart world with all things connected becomes possible. SST, founded in 2001, has taken root in China for two decades and is coming to a new stage. We have thus put forward new and stricter requirements: to pursue innovative technologies, expand technology applications, and strengthen smart service capabilities, as a pioneer in the industry.
Throughout the past 20 years of technological development, SST has been continuously pursuing product upgrades and breakthroughs, so as to maintain its leading position in the industry. Our strength has also been recognized by increasing peers, media and customers, and our technical expertise demonstrated by the launch of a number of excellent solutions. With the internal and external penetration and development of hard power in technology and soft power in culture, SST's name has been more frequently seen in the winner lists released by media. Looking forward, SST is prepared to keep stepping forward along the path built on the glory and achievements of the past, bring more vitality to the communications industry, and spare unremitting efforts for the next 20 years of glory.